Online Appointment Requests are now available.
To register for special events, do so through the Events Calendar or simply click the registration link from our Classes & Events page.  Please note - if you have a Groupon voucher, you will need to contact us by phone, text or email to make your appointment.
Want an easier way to request your appointment? Click here to download the MINDBODY app from your phone or tablet: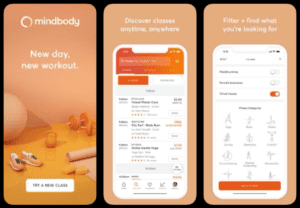 How to request an appointment:
Select appointment type

Leave therapist "All therapists"

Click the day of the week you would like on the calendar

Click Search

Available appointment times will display

Choose time and follow further instructions

Wait for confirmation via email/text from Saltville Grotto registration desk.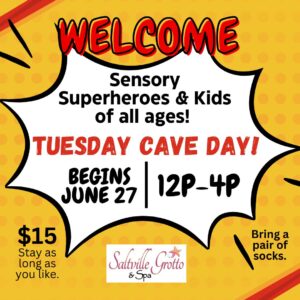 Available appointment requests:
Salt Cave

30 minutes Shared - $20
45 minutes Shared - $30
60 minutes Shared - $40
30 min Private (1-4ppl) - $75
45 Min Private (1-4ppl) - $99
45 Min Private (up to 6) - $149
60 Min Private Group (up tp 6ppl) - $199
Kids & Sensory Superheroes Cave Session - $15

Far Infrared Sauna (Shared)

30 minutes for one - $25
45 minutes for one - $40

Float Therapy

60 minutes for one - $69
90 minutes for one - $89
 60min Zero Gravity Zen Recliner min

Body Massage

Body Massage for One - 60 Min - $89
Body Massage for One - 90 Min - $119
Body & Foot for One - 90 Min total - $125

Zero Gravity Zen Recliner

30 minutes Single - $20
45 minutes Single - $30
60 minutes Single - $40

Shamanic Shifts w/ Karen Triana
Energy Healing w/ Chandra Maharaj (Weekend availability)

Crystal Healing $88
Energy Sound Healing w/ Tuning Forks - $125
Teeny Tiny Trance Healing - $77
Trance Spiritual Healing  - $150
Tuesdays w/ Raye (Healing & Intuitive Services)
Every Tuesday from 12p - 5:30p
Intuitive Readings, Vibrational Sound Therapy, Reiki Sessions
Request appt online.
$2/min Minimum 20 mins
Intuitive readings provide a unique and powerful look into the subconscious, helping through the many stages and potential paths of life. Intuitive readings can provide guidance and some clarity in life by better understanding and possibly gaining a new perspective.
Reiki is an energy-based healing modality that benefits you physically, mentally, emotionally and spiritually. It has been proven to help relieve pain and tension, foster tissue and bone healing after injury and surgery. Reiki has been known to dissolve energy blocks and clear, balance and align your chakras. It also helps improve focus and clarity and helps you to relax and sleep better.
Vibrational Sound Therapy can retune your physical, mental, emotional and spiritual bodies by encouraging relaxation, healing and wellness. This one-on-one service uses a variety of sound instruments placed on and around the body to create a combination of tones and vibrations that produce a state of tranquility and acts as a massage for the nervous system.