Due to our eclectic range of services,

appointments are necessary for all treatments

.
Our practitioners and therapists have extensive experience with their specialties. We want to ensure that you have the best experience possible while visiting.
Special Appointment Request form is for clients wishing to book more than one service or and a Saltville Grotto reservation specialist will reach out to you as soon as possible.
Feel free to reach out to us via email or phone and we will arrange an appointment as soon as possible, (but you should know – we're probably still going to ask you to complete this form).
Group & Multiple Appts Request Form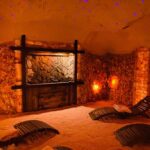 If you are new to Saltville Grotto & Spa, please complete the online intake waiver prior to your visit.